Ever since 2012 started, emptying has been a quick process. There was one week where I managed to empty four full sized body products at the same time. This could possibly be my best record so far. And now that it's a quarter way into the new year, it's time for another epic empties post!

Skincare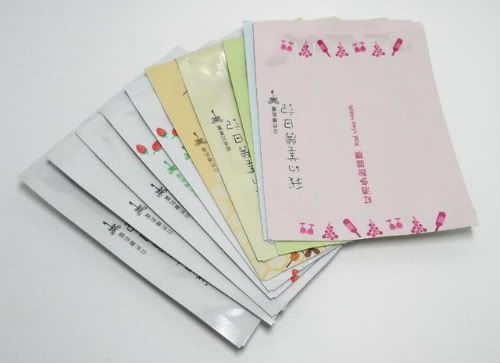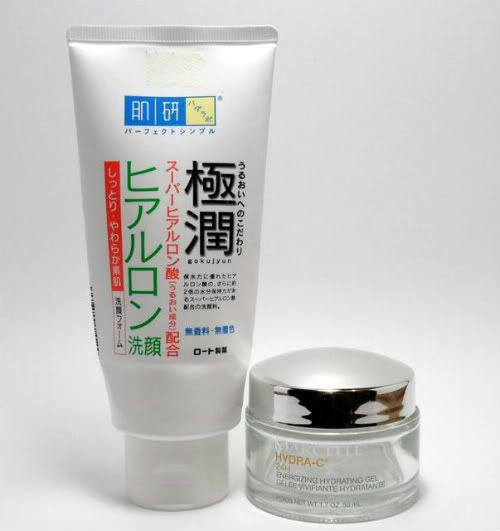 My Beauty Diary Sheet Masks - My new rule is that every 10 sheet masks will count as one full size product. The count today? 10.

Hada Labo SHA Facial Wash - I still really, really love this cleanser and I am sad to see it go. However, the AHA + BHA cleanser is much more effective so I'll be repurchasing that one more over this one.

Marcelle Hydra-C 24H Energizing Hydrating Gel - If you haven't read my review on this fantastic gel moisturizer yet, do it now. It will be the perfect moisturizer during the Spring and Summer. It's refreshing, lightweight and cheaper than my old HG - Clinique Moisture Surge Extended Thirst Relief!

Lip Care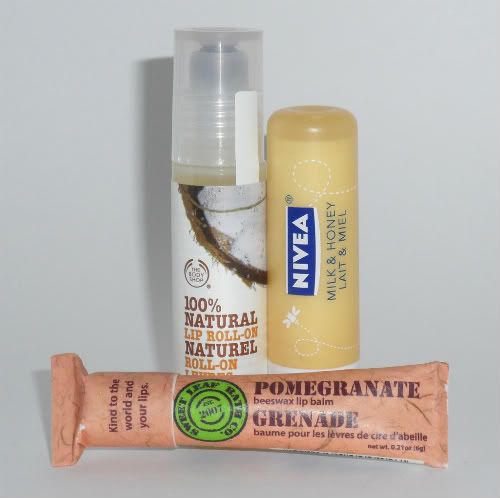 100% Natural Lip Roll-On Coconut* - This isn't actually emptied but I'm tossing it on account of it is a strange lip oil?? I feel nostalgic each time I use the roll on but the actual oil inside isn't moisturizing and rather greasy.

Sweet Leaf Bath Co. Pomegranate Lip Balm* - Also unfinished but I'm tossing it out. My lips used to love beeswax-based lip balms but not so much anymore.

Nivea Milk & Honey Lip Balm - The only lip balm that is actually emptied! I quite like this lip balm and when I thought I had lost it, I bought another tube of it. Soon after, I found the first tube under my car seat. It's cheap and it works, what else can I say?

Hair Care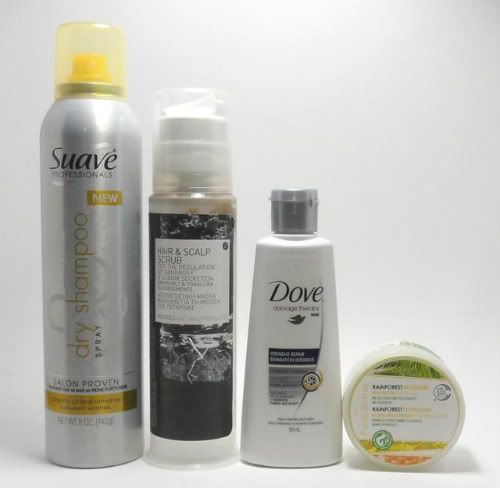 Suave Professionals Dry Shampoo Spray - This is my second can of Suave's dry shampoo and while I don't use it often, it seems to run out very quickly. It's cheap, it works, I like the scent but it is not available in Canada as far as I can tell. I bought four back ups the last time I crossed the border.

Korres Hair & Scalp Scrub - Discontinued but I'm not mad or sad about it. This stuff sucked big time.

Dove Intensive Repair Conditioner - Average conditioner, not much to say about it. It weighs down my hair if I use it too often and it doesn't fight the frizz too well.

The Body Shop Rainforest Moisture Hair Butter - I love this stuff to death! It's the best deep conditioner/hair treatment I have used to date. It's lighter than most conditioners but I still get that deep hydration my hair craves. It fights the frizz, the scent isn't too salon-ish.

Body Care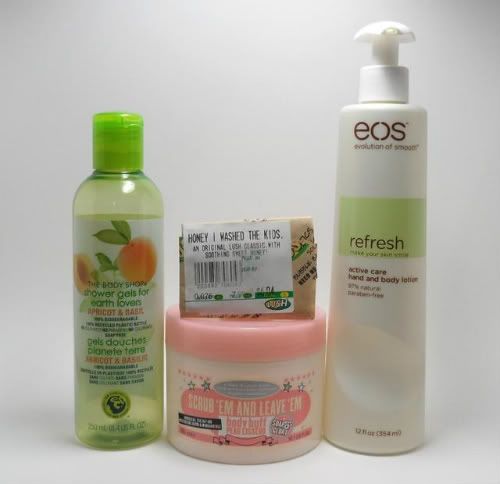 The Body Shop Earth Lovers Apricot & Basil Shower Gel - I thought I liked the smell of Apricot & Basil until half way through the first bottle, I realized I don't. And by first bottle, I mean that it's the first of three to go.

Lush Honey I Washed the Kids - "Mmmmm" is all I can ever say when I smell Honey I Washed the Kids. The scent doesn't last long but it's enough to make me want to eat my own arm off.

Soap & Glory Scrub 'Em and Leave 'Em - UGH. Have I mentioned how mad I am that Soap & Glory prices were raised? I have? Well I'm still pissed. For $20+, I say pass on this body exfoliator. It melts quicker than I can spread the stuff over my body. Between Scrub 'Em and Leave 'Em and Scrub, Actually, the latter is much more worthwhile. It works and the squeeze tube packaging is easier to handle in the shower.

eos Refresh Hand & Body Lotion - I will forever hate the smell of this lotion but forever love the formula. If you've ever tried the hand lotion, they're exactly the same. As I hand lotion, I own and use better but as a body lotion, it's great for the warmer seasons. The lotion delivers the perfect amount of hydration without any residue. It spreads easily and it's also fast-absorbing. Though, the SO whom has acute dermatitis can't use this lotion. Each time he's used it, he break out in itchy hives.

Deluxe Samples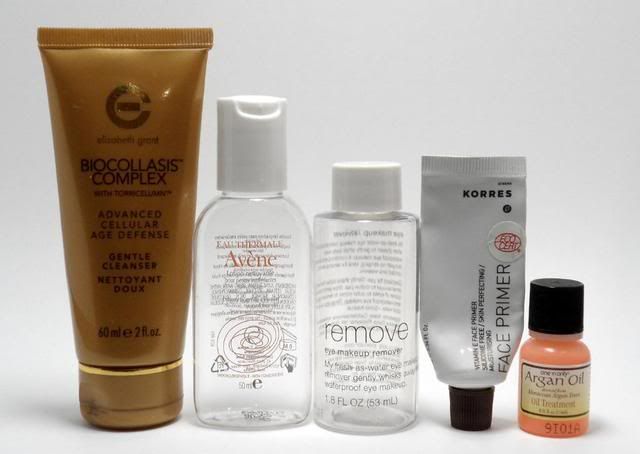 Elizabeth Grant Biocollasis Complex Gentle Cleanser - When Luxe Box was still called Loose Button, I jumped on the subscription band wagon. In my box was this cleanser. The cleanser has a thin, fluid consistency similar to the Korres White Tea fluid cleanser. However, this cleanser turns into a foamy, drying mess. Although the cleanser is touted to re-balance the skin's natural pH, it does the opposite for me. Do not recommend.

Avène - No idea what this stuff is called but it's one of Avène's makeup removing lotions but with a gel texture. I hate it.

Sonia Kashuk Eye Makeup Remover - Love, love, love! To be fair, I will officially review this eye makeup remover when Canada opens its first Target.

Korres Vitamin E Face Primer - No matter what moisturizer I used underneath, this primer would always pill. Instead of a smooth canvas, I ended up with little bits on my face and my foundation would look uneven and streaky.

One 'n Only Argan Oil - My hair dresser gave this oil treatment way back when my hair was damaged to no end. Of course, I forgot to use it until now and even with my healthier hair, I find this argan oil to be "meh". Dimethicone is the very first or second ingredient listed in the back while "argan oil" is further down. This probably explains the "meh" response my hair had.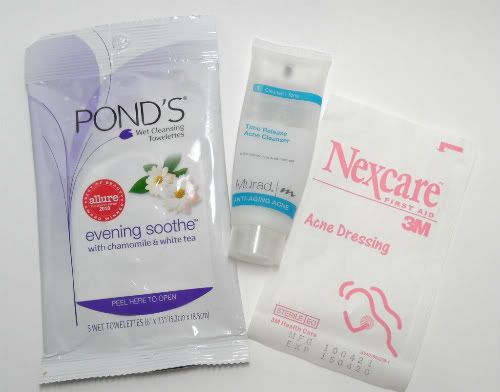 Pond's Evening Sooth Wet Cleansing Towelettes - Surprisingly good but I won't be repurchasing. Pond's still tests on animals *sadface*

Murad Time Release Acne Cleanser - No good. NO GOOD!

Nexcare Acne Dressing - I am waiting for the perfect angry pimple to review the Nexcare Acne Dressing, I swear. These little sticker things are magnificent and everyone and anyone needs an emergency pack on hand!

Samples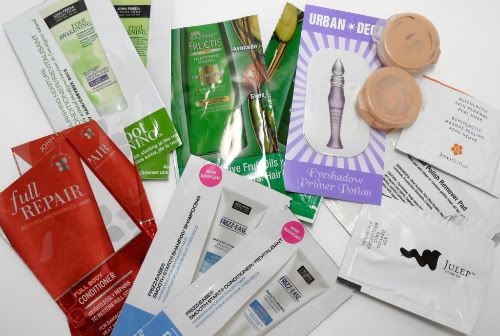 Lastly, the samples I managed to plow through (not many) since January. I mainly focused on hair shampoo & conditioner packets and now it's time to go through some tinted moisturizers and foundation samples. I have many skincare samples to go through too but I'm happy with my regimen at the moment. Time to tally!

Full size: 10
Deluxe/Travel size: 8
Samples: 14
Tossed: 2

I will admit that there are moments where I want to simply throw out a product but when I can help it, I do my best and persevere and that is what makes emptying such a rewarding experience for me. But that's just me.
What about you? What do you like about emptying and how well have you been doing with your emptying challenge?
* Items marked with an asterisk were a part of a giveaway prize.